Friendsmas @ Good Neighbor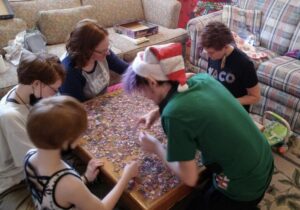 Good Neighbor is typically empty and lonely on Christmas Day, but this year, it was alive with neighbors!  The Waco Pride Network hosted "Friendsmas,"  a gathering for people who may not be able to celebrate with relatives, but can find friends and acceptance in this gathering.  All the usual traditions among friends:  food, fellowship, games, and jigsaw puzzles! 
Read more from KXXV about the group and Friendsmas. 
​