I had an inspiring conversation this week with Dr. Sandra Henry, a member of our Executive Board /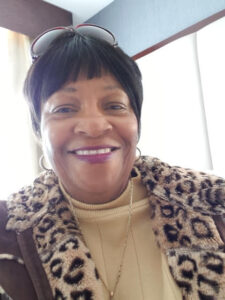 Leadership Team. Dr. Henry has been a Board member since 2019, but she learned about and used the Good Neighbor House several years before that. Dr. Henry is one of founders of Waco's Cattleya Foundation of Hope, and this group of cancer survivors came to meet weekly at Good Neighbor House. During her time with Good Neighbor House, she has seen us host events such as Black Women in Business and the Home and Foundation Walk. She is looking forward to getting back to hosting these events, as COVID restrictions ease in the coming months.
When Dr. Henry first answered my Zoom call, she was at HEB trying to find eggs. She and her husband love eating eggs, and they'd been having trouble finding them since the winter storm hit Waco. So, when I asked Dr. Henry what it meant to her to be a good neighbor, her answer brought me joy. "Just this morning, my neighbor found farm eggs and brought them to my house because they know how much my husband and I love eggs." She continued to explain that to her, being a good neighbor means caring about what others are experiencing, calling and checking on one another. She said that the recent winter freeze was an example, contacting neighbors to make sure everyone was okay and had everything they needed. "If something happens, I know I'm just one house away from help," she said and added that it was a comforting thought.
Dr. Henry went on to lament that some people don't know their neighbors, not even their names. But members of neighborly communities help each other thrive, and she wants to encourage all of us to explore what it's like to meet someone different from us and learn a bit about what it's like to be in their situation. If we don't explore this, we never learn about the authentic humanity of others and how they contribute to the overall well-being of our community. At the end of our interview, Dr. Henry reminded me that God connected everyone for a purpose and that she wants all of the readers to know that if you need a friend, Dr. Henry will always be here for you.
Speaking with Dr. Henry just reinforced for me how diverse the Good Neighbor and Sanger and  Waco community really is and how uniquely diverse it is, and like Dr. Henry, I'm proud to be associated with this place.