Mission:
Building on the Christian mandate to love our neighbors and on the ideals of the early settlement houses, Good Neighbor House facilitates social integration and worship among diverse Wacoans as we invest our knowledge, faith, and experiences in community life together.
We:
Create and maintain a safe and welcoming community space for all neighbors: individuals, families, and groups.
Organize minimal, flexible programming to build community among neighbors (e.g. gardening, worship, arts, lending library).
Host non-profit community groups aligning with our mission (e.g. language classes, worship groups, arts and crafts groups, 12-step programs).
Participate in the spiritual, intellectual and social formation of resident volunteers and other volunteers as they experience the joys and challenges of daily life in a diverse neighborhood.
Honor the traditional settlement idea by partnering with Waco's churches, college and university groups, businesses, and others in support of our mission.
What is a settlement house?
Social settlements began in the 1880s in London in response to problems created by urbanization, industrialization, and immigration. The idea spread to other industrialized countries. Settlement houses typically attracted educated, native born, middle-class and upper-middle class women and men, known as "residents," to live (settle) in poor urban neighborhoods.  —Hull-House Museum website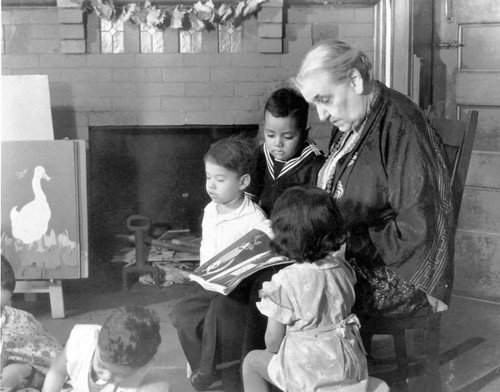 The first and perhaps the most famous settlement house in the USA was Hull House in Chicago, founded by reformer, sociologist, author and suffragette Jane Addams. Addams was the first American woman to be awarded the Nobel Peace Prize and "is recognized as the founder of the social work profession in the United States." [Wikipedia]
The settlement idea was designed as an alternative to the charity practices of the day. It was common for wealthy volunteers, often with paternalistic motives, to travel daily to the poorer areas to instruct and reform people they perceived to be inferior. In contrast, the settlement workers, often college students, moved into poorer neighborhoods to live and work alongside the neighbors for community enhancement.
The old settlements taught adult education and Americanization classes, provided schooling for the children of immigrants, organized job clubs, offered after-school recreation, and initiated public health services. They offered trade and vocational training, as well as classes in music, art, and theater. They combatted juvenile delinquency and gave recreational opportunities to kids and the elderly…. Settlement houses were characterized not by a set of services but by an approach: that initiative to correct social ills should come from indigenous neighborhood leaders or organizations. Settlement workers were not dispensing charity; they were working toward the general welfare. —The New Social Worker magazine
Many settlements were connected loosely with universities and some were religiously-affiliated. Settlement work grew into one facet of professional social work concerned with group work and community organizing.
Learn more about the history of the settlement movement here.
---
Good Neighbor does not discriminate by race, gender, gender expression, ethnicity, nationality, age or sexual identity. Although we expect volunteers and board members to be Christian in order to follow our mission, activities at Good Neighbor are not restricted by religion.