Congratulations Sarah Flores!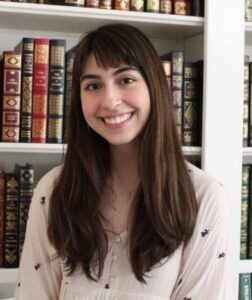 Join us in congratulating Sarah, on her May 7, 2021 graduation from Baylor University with your degree in Writing and Rhetoric. We appreciate all the work she did as our Public Relations and Communications intern this past semester. She is leaving us with quite a portfolio of work (here's the link to much of her work @ Good Neighbor).
In addition to one more post that she will publish this coming week, Sarah share's her plans for the next part of her life-journey: 
I'm excited to begin life beyond the Undergrad work. I plan on taking a year off to read, travel, and substitute teach while I apply for various Masters and Doctoral programs in the Fall. I hope to earn a doctorate in Contemporary American Literature, and I want eventually to be a college professor at a university in a disadvantaged / impoverished area. My future plans also include to write and publish a novel and maybe even to own a bookstore. I've realized while in college how impactful a book can be to someone's growth or outlook as an individual (which is what happened to me!), and I want to spend my life sharing this feeling with as many people, especially those who may not have easy access to books, as I can. 
We wish you much success, happiness, and peace.
​