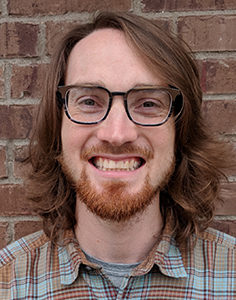 A few days ago, I had the pleasure of speaking with Rory Jones, the Good Neighbor Board Member who oversees (and does much of the) maintenance at the house. Speaking with him is interesting because he's had a front-row seat, more than most, to the changes Good Neighbor House has undergone for the last two and a half years. He was recruited by Mrs. Bridgewater, and after she explained to him what Good Neighbor House's mission and where it saw itself in the neighborhood, he decided he wanted to join.
Mr. Jones works with Joelle specifically because she maintains the yard and garden at Good Neighbor House. He said this is extremely important because the outdoor space is meant to be inviting and encourage people to sit on the back porch. He even mentioned that a previous Resident Volunteer would sit on the back porch with her husband at the same time each week to eat ice cream. And over the past few years, several musicians and artists give concerts or presentations on the back porch, which is an ideal communal space, weather permitting. 
Mr. Jones completes or contracts all of the projects at the Good Neighbor House, and these projects are intended to create more space, to make better use of the space, and to maintain the spaces within the house. 
To Mr. Jones, being a Good Neighbor means to be willing and able to see the ways that the people around us need someone to check in on them. We need to be able to give the time and space to people to listen and hear the ways they need to be shown that they matter and that they're cared for. Good neighbors create time and space for these conversations, and Good Neighbor House takes this responsibility literally as it creates a physical space so that people have a chance to connect with others and let each other know that they're cared for. 
My favorite part of our interview was when I asked him about the physical and intangible differences he'd seen in Good Neighbor House since working there for the last two and a half years.
I will explore his observations in a blog post next week!