This last week, I had the opportunity to interview the last of Good Neighbor House's Resident Volunteers: Audri Thicklin. She is a student at Baylor's Graduate School of Social Work, and this is her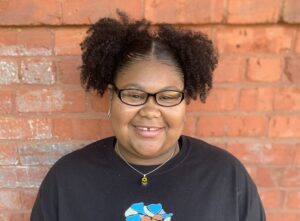 first year working with Good Neighbor House. She is The Administrative Resident Volunteer, and during a regular year (not during a pandemic), She would be the person who is in contact with the groups who put in a request to meet at or use Good Neighbor House. Her other responsibilities include updating the calendar to make sure all groups are scheduled correctly, depositing money, and making sure the users of the House know the rules that they need to follow. She expressed disappointment that she was not able to work at Good Neighbor House when it was not closed because of the COVID pandemic.
To Audri, being a "good neighbor" means simply to think about those around you. "It's about community and the relationship you have with others," she said, "you know, like being there when someone needs something." My favorite part of what Audri had to offer though, was that being a Good Neighbor doesn't just mean being present when the people around you need something or are facing hardships: it's being present to celebrate their accomplishments and good times as well. 
Audri is proud of the work Good Neighbor House folks have done this past year to build community among themselves and with the neighborhood. Even though it's been hard, she said, it's been worth it. One of her favorite experiences was when she and the other Resident Volunteers made cookies for the neighborhood and went to neighbors to pass them out safely. 
Living in a settlement house has been a growth-filled experience for Audri. Because she's a social work student, she was familiar with the idea of Settlement Houses, but she didn't know that they were still in existence and use. She loves the idea that so many different types of groups meet within Good Neighbor House, from Bible study groups, to dance groups, to LGBTQ+ groups. And, that's really special.