Little Free Library Update
This past Saturday, on March 6, twenty-five Waco libraries participated in the National Day of Unplugging's Little Free Library Scavenger Hunt (we shared the event here). I'm happy to tell you all that Good Neighbor House's community library was one of the participants. The purpose of the event was to promote reading and to help Waco families learn the many places where they can access books.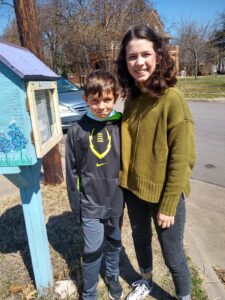 Even though we registered to be a part of the event at the last minute, we seemed to have a fairly impressive turnout. 
Pictured here is the Allen Family with Good Neighbor House's Community Library. The Allen family visited 12 out of the 25 libraries, and it took them 2 hours.
Unfortunately, Good Neighbor House had very little time to prepare for the event this year because we found out about the event at the last minute. But next year, we will plan ahead and include " treasures" for the families who do come.