Little Free Library Scavenger Hunt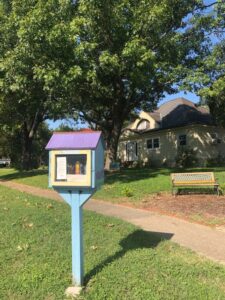 Our Little Free Library @ Good Neighbor House will be part of Waco's Little Free Library Scavenger Hunt on Saturday, March 6.
Save the date and help us join the Waco community in celebrating the 12th Annual National Day of Unplugging
Sign up for this FREE event now and enter for a chance to win a prize at www.nationaldayofunplugging.com.
Get your first stop and clue on Thursday, March 4 on the National Day of Unplugging website HERE.
Hunt kick-off is Sat March 6th, 10 am at all locations. People can pick up instructions and maps to all other stops at that time. The scavenger hunt will have between 15 and 20 stops.   
Sign up now. The Hunt is happening all around the Greater Waco area.  Locate all the libraries, solve the clues, and you may even find extra goodies along the way! Bring along a book to trade if you'd like! 
Masks and social distancing please. Get out, unplug and have some fun!
Learn more about Little Free Libraries