The bright yellow house on the corner of Colcord Ave and 23rd street is hard to miss, and that's good because the house and its occupants are eager for people to join them. The Good Neighbor House, located in Waco, Texas is modeled after settlement homes of the nineteenth century. Settlement homes are houses owned by a group of people with the intent of living there and serving their local community by opening their doors to anyone who may need to use the space. They do this in response to Christ calling us to love our neighbors as ourselves. Today the Good Neighbor House is host to many events put on by a diverse group of organizations, but what did the original settlers houses do? It's reasonable to assume that they were used in vastly different ways because the house and settlers serve the community so as the community's needs change, so do the services the settlement house provide. To truly understand settlement house one must go back to the nineteenth century to see how this all got started.
The Settlement House movement began over a hundred years ago in 1884 in East London. The very first settlement house was Toynbee Hall and it provided social services and education to the poor that resided in the home. This began the settlement house movement. It quickly became popular in the United States and by 1887 there were seventy-four settlement homes in the U.S. Originally settlement houses were used to help immigrants assimilate into the workforce by teaching them middle class American values, such as art, literature, and history, and also helping to reduce the effects of poverty by having daycare centers, homeless shelters, and public kitchens and baths.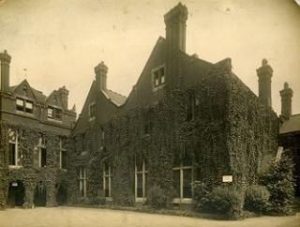 Originally Settlement houses were nondenominational though many religious organizations were responsible for establishing the settlements. While this isn't surprising, one exciting piece of information is that women filled most of the important leadership roles even during an era when women were excluded from leadership positions in government and even business. Women started nearly half of the settlement homes in the US predominantly. This is not at all unlike our very own Good Neighbor House here in Waco, started by Dr. Laine Scales a female professor at Baylor University. ​
So while the Good Neighbor House doesn't serve in exactly the same ways that the original settlement houses did, it is still meeting the needs of their community and serving their neighbors. Everyone at Good Neighbor is excited to carry on this long and proud movement We beleive that Good Neighbor, like the women- led settlement houses of the past, is becoming an an important thread in the fabric of our Waco Community.
–Megan McAllister